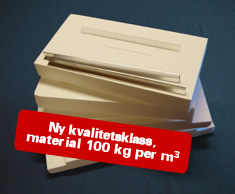 Extra box, Halv Norsk, outer measures 492x492 mm
Artnr: 13-053
Price 288.00 kr
ARTICLE INFO
Dimensions 492 x 492 mm. Delivered in 4 parts. Easy to assemble. Fits like treasure box to the Töreboda-beehive with the same dimensions in wood, 13-01. Can be used to the Skälderhus and the Östervåla Hive.New improved qualityclass, 100 kg/m3.
Thickness 55 mm.
Frame carrier strip is included!
For larger quantities, contact us for price.